TOTAL COST OF OWNERSHIP CALCULATOR
When your electric motor fails and production grinds to a halt, the pressure is on to get back up and running as quickly and cost-effectively as possible.
But basing your decision solely on the price tag doesn't tell the whole story. 
The purchase price represents a mere 1% of the Total Cost of Ownership (TCO) of any electric motor. 
Maintenance adds another 2%. 
But the remaining 97% is entirely down to the cost of electrical energy.
Don't make a decision purely based on 1% of the relevant information
Let ERIKS help you make an informed choice, that will help you save money and improve performance over the total lifecycle of your electric motor.
Calculate, Choose, Click or Call - Try it for yourself today
The latest updates to the ERIKS Total Cost of Ownership Calculator offer even greater functionality than ever before.
It's now hosted in the ERIKS Webshop, so you can make your decision and then make your purchase in just a few clicks if you have a customer webshop account. 
One click will reveal the full specification of the suggested replacement motor, and you can then click to buy, alternativly you are just one click away from arranging a repair if that is your preferred option - it really is that simple!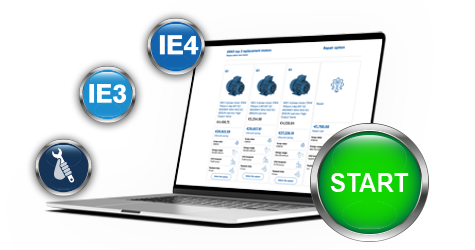 Already a Webshop Customer?
Simply, click the button below, to access the login screen, that will take you through to the next steps to making significant savings. 
Not yet a Webshop Customer?
Click the button below, and we will take you through to a demonstration page that will show you savings based on list prices.
To gain full access why not apply for a customer account when you get there.
Motor Efficiency Legislation is Changing, Are You Prepared?
HELPING YOU STAY COMPLIANT
Rising demand for energy in industry is leading to a parallel rise in CO2 and CO2 equivalent emmission. Governments worldwide are seeking ways to reduce these emissions.
Since electric motors consume 46% of electricity generated worldwide, governments are introducing legislation to make electric motors more energy-efficient, which will reduce their energy consumption and in turn their CO2 and other emissions.
Following the introduction of a voluntary scheme in 1999, the EU agreed a Directive defining a timeline for the introduction of Minimum Energy Performance standards for induction motors. This regulation will be repealed from July 2012 and replaced over the period to July 2023 with new energy-efficiency requirements for a wider range of motors.
Download a copy of our latest whitepapaer that explains what this will mean to you and your plant.
Contact
Get in Touch
For all general enquiries use the Enquire Online form - we'll connect you with the best member of our team for your query.  Alternatively, look up your local service centre...
Got a Technical Question?
We are proud to boast a strong team of technical specialists in each of our product and service areas. If you have a technical question a member of our team would be happy to help. 
Share Your Thoughts
At ERIKS we strive to deliver the best quality service and products. As part of this goal we encourage customers to submit feedback on their experiences so we can resolve any issues and concerns.