ERIKS Flagship Order Fulfilment Centre for the Future
6th April 2021
A revolution in industrial fulfilment and service
On a business park in Oldbury, right in the heart of England, there's a quiet revolution going on – a revolution that is changing the world of industrial fulfilment.
Oldbury, once at the centre of the industrial revolution that transformed the world, is now home to our major new industrial fulfilment hub, from where we plan to revolutionise the way in which we support our customers throughout the UK and Ireland.
In today's fast-moving industrial world our customers face more challenges than ever before: global market disruption, commoditisation, competition from new technologies, trade tariffs and skills shortages are all combining to create a perfect storm.  Survival and future growth depend on the speed, agility and effectiveness with which companies respond to these constantly shifting pressures.  In turn, this depends on the resilience and flexibility of their supply chains.
That's why we're developing a new fulfilment centre of expertise.  This will form our UK headquarters and hub for our interconnected network of service centres at strategic locations around the country.
So, what will make our new Oldbury fulfilment centre so special?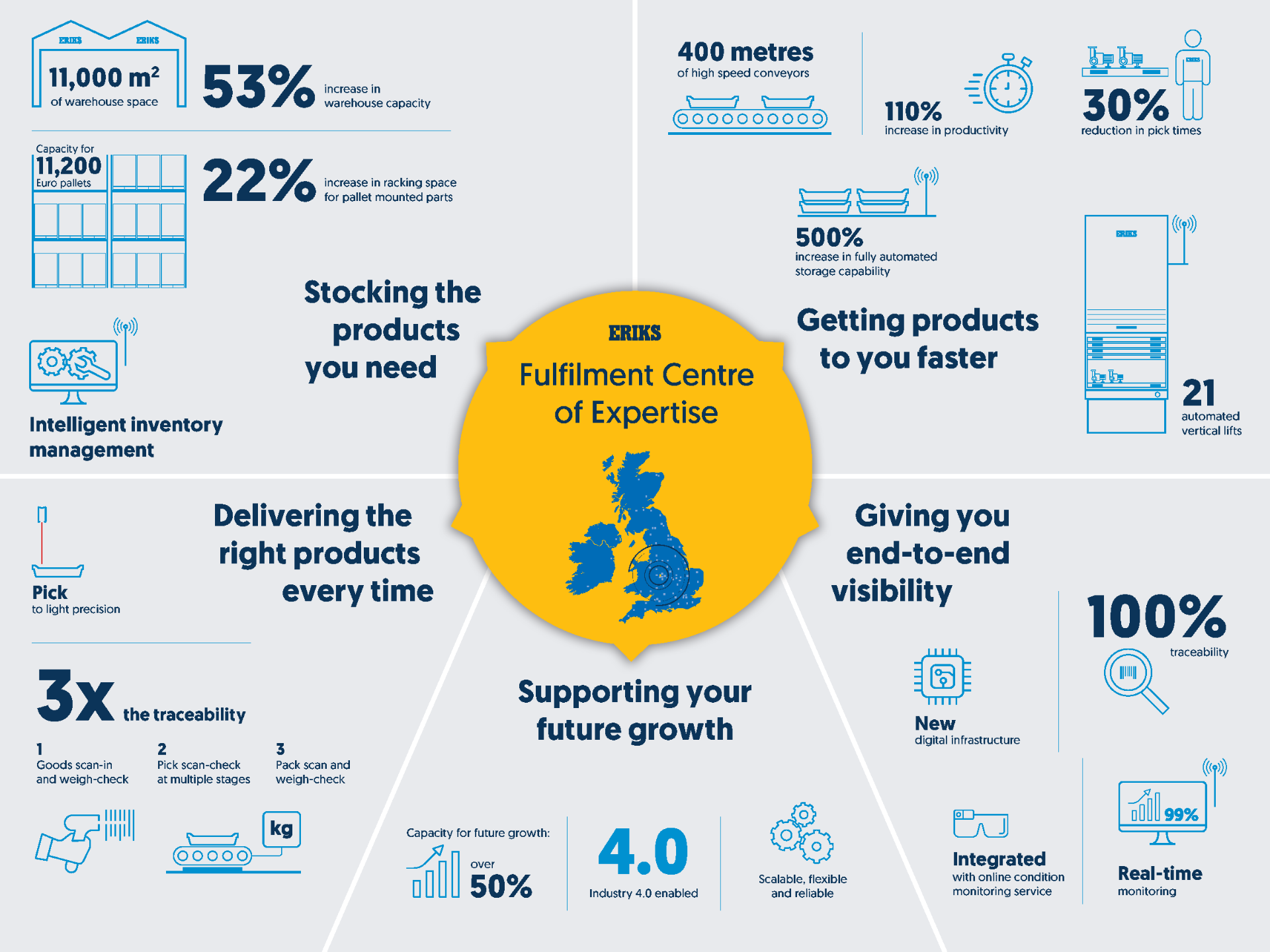 Our goal is to create an industrial fulfilment centre that sets new standards for our sector.  We want to be able to achieve levels of accuracy, speed and service that have never previously been achieved – either by ERIKS or any other industrial distributor. 
To that end, we've a multi-million pound investment programme, which covers both the new fulfilment centre and headquarters in Oldbury, plus some of our regional engineering facilities. 
At Oldbury we will have:
Over 11,000 square metres of warehouse space
21 vertical lifts
More than 400m of high-speed conveyors
One of the most advanced warehouse management systems anywhere in the UK
Sophisticated scanning and weighing systems for every order
Robust I4.0 configured IT infrastructure with real-time monitoring
This investment is critical to ensure we:
Stock exactly the products and parts that your customer needs
Pick, pack and despatch orders with 100% accuracy
Deliver anywhere in the UK and Ireland in the shortest possible time
Provide full end-to-end traceability
Support your future growth.
If you would like to know more about this exciting invest, please contact your local ERIKS Service Centre today.
Here's our infographic in PDF.
17th March 2021
Our Next Step To Delivering Better Customer Service
This summer, we'll be celebrating the opening of our industry-leading fulfilment centre of expertise in Oldbury, in the West Midlands. This 11,000m²  site, with extensive warehouse facilities, loading bays and office space, is to become our new UK headquarters and will be one of the most advanced logistics and fulfilment centres anywhere in Europe.

Our goal is to build a facility that acts as the launchpad for the next stage in the development of ERIKS UK & Ireland, while enabling us to deliver ever higher standards of customer service.  These will include faster speed of ordering and delivery, greater breadth and depth of product availability, intelligent stockholding based on exact customer needs with end-to-end traceability.
We'll be keeping you up to date with the latest developments at Oldbury, as the build and fit-out continues.  If you'd like to learn more about this multi-million pound investment, and how it will help your business even further, then please get in touch with your local ERIKS Service Centre or take a look at the latest video showing the progress of work to date. 
11th March 2021
The Lifts Are Alive
We are extremely pleased to share with the you the latest progress at our Fulfilment Centre of Excellence.
We are proud to hit our first major milestone on our journey following the installation and commissioning of the first 15 fully operational Lean Lifts on the premises.
Check out the video to see this exciting progress first hand and don't forget to check back for further developments in the very near future.
ERIKS Fulfilment Centre of Expertise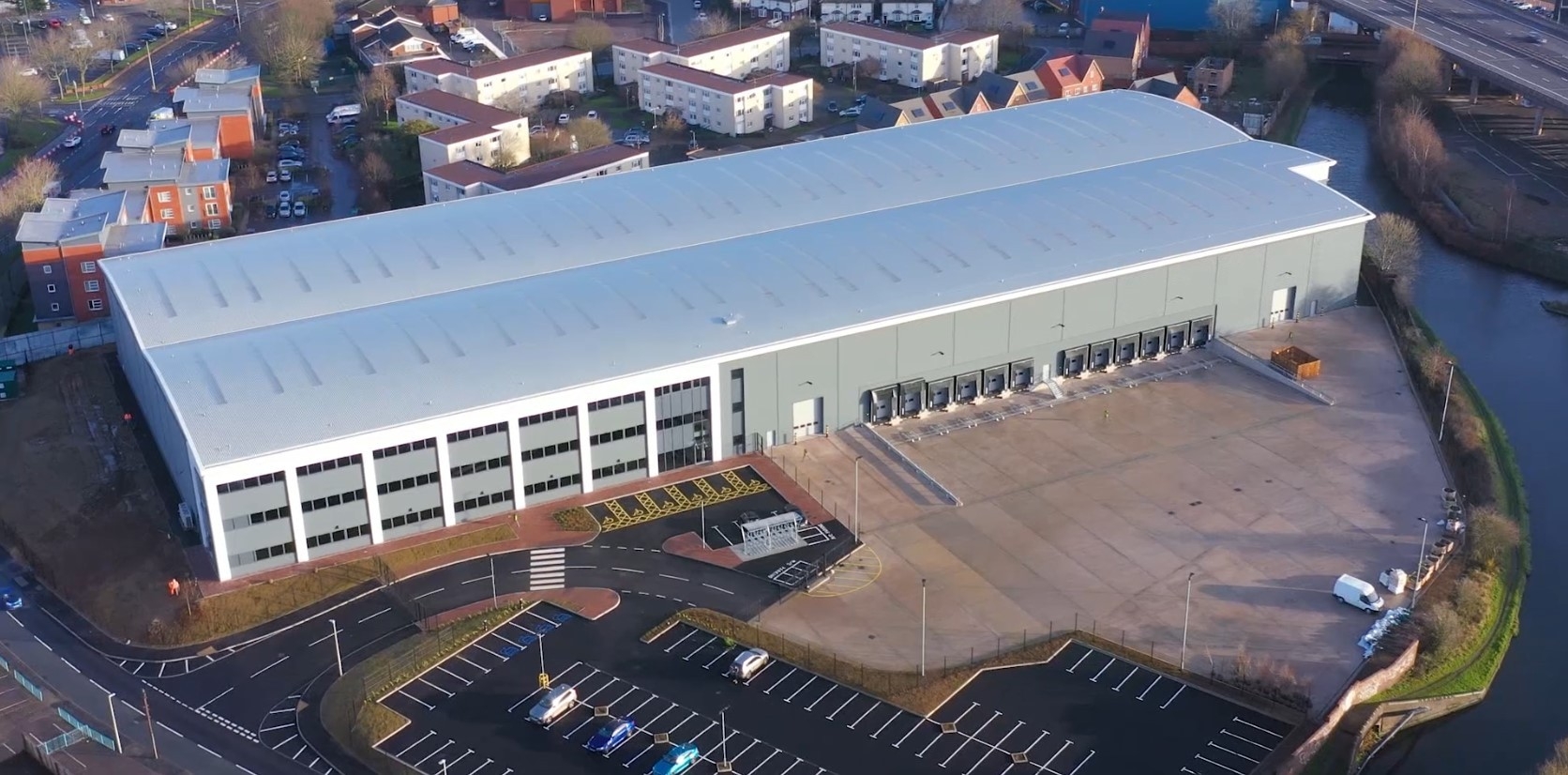 18th December 2020
As Europe's leading specialised industrial services provider, we're always looking to the future, to create ever more value and choice for all our customers, large and small. 
We are delighted to announce a multi-million-pound investment programme in an exciting new fulfilment centre and head office in Oldbury, in the West Midlands.  This will dramatically increase our capability and capacity to fulfil far more deliveries than ever before, with accuracy, speed, and efficiency for all ERIKS customers. 
The new site is located right between two major motorway junctions on the M5, providing excellent transport links, and covers over 11,000m², with extensive warehouse facilities, loading bays and office space.  The new building has already been constructed and we are now in the process of fitting out, in readiness for its opening in summer of 2021. 
Once complete, the new fulfilment centre will be the most advanced of its kind in our industry, with a combination of advanced storage solutions working with the latest warehouse management technology controlling automated vertical picking systems, rapid transit conveyors and integrated vision and weighing equipment. Our goal is to deliver 100% pick accuracy, with full traceability, to ensure  every customer order, no matter how complex, is fulfilled precisely and on its way in the shortest possible time. 
The new computerised system will also enable us to offer our customers far greater visibility of orders, from sale through to delivery, while creating a dynamic new digital platform on which we can develop exciting new customer service options for the future. 
Our CEO for the UK and Ireland, David Gillies, explains, "This is an exciting development for our customers, and a huge endorsement by our parent company in both our team and the ongoing success of our business.  We recently celebrated our 80th year as a major industrial services provider and are excited to be embarking on the next phase of our development.  The new fulfilment centre will become our primary hub and headquarters in the UK & Ireland, enabling ERIKS to set the standard in quality, accuracy and value of service provided to all our customers." 
How to Contact ERIKS
Get in Touch
For all general enquiries use the Enquire Online form - we'll connect you with the best member of our team for your query.  Alternatively, look up your local service centre...
Got a Technical Question?
We are proud to boast a strong team of technical specialists in each of our product and service areas. If you have a technical question a member of our team would be happy to help. 
Share Your Thoughts
At ERIKS we strive to deliver the best quality service and products. As part of this goal we encourage customers to submit feedback on their experiences so we can resolve any issues and concerns.