ROTARY BEARINGS
Covering everything from ball, roller, thrust and taper bearings right through to housed units, energy saving and extreme temperature bearings, we've got the product you need, ready and waiting from stock.
All backed-up with full manufacturer warranty and technical back-up from both ERIKS and our supply partners.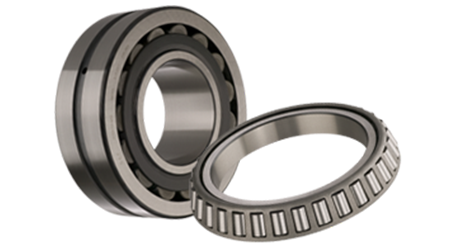 The Right Solution For Life
Product Know+How
For product technical information and online purchasing, use the links below to open our webshop in a new window, use the built in selectors and filters to find the product, view associated supporting technical information, data sheets and documentation. Raise an online enquiry or find your local service centre (using the links in the box below) or purchase online (if you have an ERIKS account) via the webshop.
It's time to reduce the risks to food safety with specially designed bearings...
Introducing SKF Food Line, an innovative range of hygienic and high performance bearing unit solutions for the most demanding clean environments.
Specially developed to eliminate the spread of bacteria, they provide a solution to many food safety issues. 
Lubricated for life designed to withstand frequent washdowns, the new bearing units also solve many of the problems connected with traditional maintenance.  
Milking the benefits with value-added Bearings from ERIKS & NSK
Full Blog post here
Enduring repeated bearing failures on your critical assets will have a significant impact on your productivity as well as increasing the stress on your maintenance teams to get production up and running quickly. 
Recent research has shown that during breakdown periods your team are 9x more likely to have an accident than when undertaking scheduled maintenance. So when a UK based milk processing plant called in ERIKS and NSK, there was more than just downtime disruptions on their mind.
Know+How Hub
Keep up to date with the latest news and updates
ERIKS in Action
Saving you time and money, each and every day

Evolving Relationship Returns 100% Reliability
Driving down costs through reduced maintenance is a priority for all businesses. Through investment in research and development, coupled with ERIKS specialism and technical expertise, one food manufacturer found a cost-effectice solution to a recurring problem.
Contact
Get in Touch
For all general enquiries use the Enquire Online form - we'll connect you with the best member of our team for your query.  Alternatively, look up your local service centre...
Got a Technical Question?
We are proud to boast a strong team of technical specialists in each of our product and service areas. If you have a technical question a member of our team would be happy to help. 
Share Your Thoughts
At ERIKS we strive to deliver the best quality service and products. As part of this goal we encourage customers to submit feedback on their experiences so we can resolve any issues and concerns.