Products for the food industry
Food-safe components for your processes
Our specialists have made a selection of products that comply with the laws and regulations for your food process. Scroll through our selection or choose one of the categories directly.
When you're ready, let us know how we can help with your Food or Beverage solution.
Sealing and Polymer
As leading supplier, ERIKS develops and produces high quality elastomer components and seals for the food industry. We stand out with our wide range of materials, rapid availability and services.

Whether you are looking for a reliable supplier for standard parts, a development partner for custom parts or securing express delivery of components: we are the right partner for you.
ERIKS Sealing & Polymer is not only dedicated to delivering innovation, but also customer service and satisfaction.
Continual investment in technology and expertise ensures quality is maintained and new products and technical solutions continue to be developed for our customers.
 
Wide product range and complementary services

Our components are widely used in food production plants.
Products
■   Elastomer sheets
■   O-rings, X-rings, back-up rings
■   Flat gaskets
■   Hygienic Milk, DIN and SMS seals
■   Tri-Clamp seals
■   Spring reinforced seals
■   Customised moulded parts and profiles
■   PTFE seals and tapes
■   High temperature gaskets
Services

■   Consultation and development on site
■   Design and construction
■   Reverse engineering
■   Material analyses in own laboratories
■   In-house production
■  Online data sheets and specifications
■   O-Ring Calculator and Chemical Resistance Guide
■   Latest in machinery and cutting technology
EPDM 559100
ERIKS compound 559100 is an EPDM rubber, designed specifically for the food industry. 


North America  (FDA, 3A) 
South  America  (Mercosur)
Europe  (EC1935) 
China (Chinese Food Contact Regulation GB)


    ERIKS 559100 is ideal for standardisation (OEM) when machines are used on a global scale.
FKM 514641
ERIKS 514641 is an FPM/FKM compound with high chemical resistance and a high compression set. 514641 is especially designed for food applications.
High temperature
Vacuum applications
Resistant to oil, grease and fuels


    514641 complies with FDA, EC1935/2004 and 3A.
NBR 366470
ERIKS compound 366470 is a specialty NBR material designed for food applications.  
Food and dairy applications
Suitable for hydrocarbons
366470 complies with FDA, EC1935/2004 and 3A.
VMQ 714177
ERIKS compound 714177 can be used at low and high temperatures and is suited for contact with air/oxygen.
Because of the mechanical properties, we recommend using silicone O-rings for static applications only. 
714177 complies with FDA, EC1935/2004 and Chinese Food Regulations.
Hygienic Seal Design Considerations
Square section O-ring grooves are unsuitable in most applications due to the risk of bug traps. Proven hygienic coupling designs are readily available including: hygienic clamp seals, DIN 11851 D-Seals, O-Rings for DIN 11864 and BS 4825 part 5 RJT fittings, SMS and ISO 2853 couplings.
Further design guidelines are published by the ASME-BPE (American Society of Mechanical Engineers Bio Processing Equipment guidelines) and the EHEDG (European Hygienic Engineering and Design Group) which look beyond the seal material and consider the seal in its operating environment.
Top Tips Whitepaper - curated by Food Industry Specialists
Leader flange gasket Clipperlon 2100
Modified bi-axially structured PTFE-seal. The seal is reinforced with silica and offers good creep resistance. Clipperlon 2100 has excellent gas tightness and an all-round chemical resistance.
Leader flange gasket Clipperlon 2110
Modified bi-axially structured PTFE seal. The seal is reinforced with glass molecules and offers good creep resistance. Clipperlon 2110 has excellent gas tightness and seals at low bolt loads. The PTFE seal has all-round chemical resistance and is widely applicable in all types of flanges such as plastic, glass, enamel and steel.
Leader flange gasket Clipperlon 2115
Modified bi-axially structured PTFE-seal, specially formulated for hygienic applications. This material is free of pigment and seals at low bolt pressures. The seal has an all-round chemical resistance and can be widely used in all types of flanges, such as plastic, glass, enamel and steel. 
Leader flange gasket Clipperlon 2135
100% multi-directional expanded PTFE sheet with very low cold flow and high gas tightness. Universally chemical resistant, pH 0-14, excellent for use on rough or slightly damaged flange surfaces. Unprinted sheet with printed marking.
Fluid Power, transfer and control
Food industry hoses - what do you have to look out for? And what differences are there between connections? Hygiene, cleaning and durability requirements for hoses and their components are extremely high. Our broad and extensive product range of both in-house and partner brands offers you a complete selection. Custom-made industrial hoses are manufactured in our own production facility.
Applications: dairy products, animal fats, vegetable oils or fruit juices.
Goodall® Nutralon
The Goodall® Nutralon product range (D, SD, SD Lite, SD Plus) covers a wide selection of hoses for the food industry and complies with EC 1935/2004 - EU 10/2011, FDA, BfR, USDA and 3-A standards. The flexible hoses are easy to clean and prevent bacterial growth thanks to their smooth inner lining. Nutralon hoses are provided with batch numbers along the entire hose to ensure traceability at all times. The hoses are equipped with hygienic stainless steel push-in couplings.
Applications: beer, soft drinks, wine and beverages with high alcohol content.
Purpur Beer hose
The Purpur is the standardised beer hose. ERIKS provides the hose with pressed couplings for maximum hygiene and easy sanitation. Purpur withstands the toughest cleaning conditions and guarantees a long service life. The hose complies with EC1935/2004 regulations. 
An extremely flexible hose for moving applications or the highest hygiene requirements.
Bioflex PTFE hose
The Bioflex is the most innovative PTFE hose. Due to its unique patented construction, the hose is internally smooth, ultraflexible, almost impossible to kink (prevents blockages even at small bending radius) and easy to clean. The hose is available with a food-safe rubber outer wall for hygienic conditions. Bioflex complies with EC1935/2004, EU 10/2011 and FDA.
Wear-resistant food-safe hose for dry substances, suitable for static discharge.
Abraflex MD-Food AS-INOX
Abraflex MD-Food AS-INOX is characterised by its unique combination of food safety and conductivity. The innovative polyurethane hose is highly abrasion resistant, easy to handle and safe for use with abrasive and flammable powders in EX-zones. 
DuraCrimp® FOOD
The match between hose and coupling is crucial for the overall functionality, hygienic properties and service life of the system.
The most hygienic way of attaching a coupling to a hose is by pressing or crimping. Goodall® DuraCrimp® FOOD is an innovative, hygienic and safe pressure system for the food industry. This concept, developed by ERIKS, connects Goodall® food hoses to custom-fitted hose couplings and sleeves. This ensures a seamless, leak-free connection without dead spaces.
Pneumatics for food environments
We regularly come across pneumatics that are not suitable for use in a particular working environment. Excessive moisture, corrosion or contamination can cause valves and cylinders to malfunction: hoses harden or rupture, couplings corrode - causing seals to deteriorate and leak.
ERIKS offers an extensive range of pneumatic products especially for the food industry that:
Meet food safety standards
Are corrosion resistant
Are suitable for aggressive cleaning agents
Withstand extreme temperatures
Festo stainless steel cylinder CRDSNU
This round, stainless steel cylinder is ideal in applications where parts are exposed to extreme conditions (including aggressive cleaning) or where strict regulations apply. 
Built in EHEDG compliance
FDA approved
Norgren Pressure Sensor Series 34D 
Pneumatic Hydraulic electronic pressure sensor, the unit is suitable for food, beverage and process control environments with high overpressure resistance.
The unit is suitable for harsh industrial and process control environments with high overpressure resistance
Norgren KM/8000/M Stainless Steel Actuator
Round cylinder specially developed for the food industry. Very suitable for the most critical applications due to the very fine stainless steel, electro-polished surface and the absence of dead spaces.
Want to know more about our solutions for the food industry?
Our latest 27-page brochure addresses all your challenges and illustrates the solutions and added value that ERIKS offers.
Read more about food safety and hygiene, regulations and downtime reduction. Download the brochure or view online.

Flow Control
EU 10/2011 migration test
All valve components that come into contact with food are subjected to a migration test. This ensures that no, or only a defined number of, substances are transferred when in contact with food products. The three main concerns:
1. The supplied components are tested for the migration of harmful substances
2. The selected simulants correspond to the food items for which the component is used
3. Test temperature and test duration represent the process for which the component is used
All ERIKS valves and fittings with EC1935/2004 or FDA approval are supplied with the corresponding Declaration of Compliance.
Take a look at the migration test results of both stainless steel and plastic components of the ECON ball valve.
Test method applied
Stainless steel parts - CM/RES[2013]9
Migration test results
TF 4215 seat - EU-10/2011 [EN1186-1,-2,-3].
ECON® Ball valves
The ball valves comply with EC1935/2004 and FDA regulations and have passed all compulsory migration tests. The valves operate at pressures up to 100 bar within a temperature range of -50 °C to +250 °C. ECON Ball valves are available with flange, threaded or welded connections. 
Optional:
V-port balls (30°, 60° and 90°) for modular applications
Can be automated with electric or pneumatic ECON actuator 
Certification
in addition to EC1935/2004 and FDA, ECON ball valves are also TA-Luft, ISO-15848-1 and Firesafe certified.
ECON® butterfly valves - Series 67 and 68
The series 67 and 68 butterfly valves are ideally suited for food-related processes thanks to the PTFE-coated EPDM lining. The valves comply with EC1935/2004 and FDA regulations and have passed migration tests for both the stainless steel valve blade and rubber/plastic liners. The butterfly valves are suited for slightly abrasive media and applications where a black coating is not preferred. 

Optional:
Full PTFE lining
Rubber liners available in black and white EPDM

Can be automated with electric or pneumatic ECON actuator 
Customised valves from AbK (Armaturenbau Köln)
Through AMG-Pesch (an ERIKS Company) we are able to offer products outside of the norm, customers of AMG Pesch were repetitively asking for specific modifications and tailor made solutions beside our actuator program and the standard range of valves the decision was taken in 1989 to become a manufacturer of special valves for specific requirements and individual applications.

 Through our AbK (Armaturenbau Koln) division, we are able to offer multi outlet valves, with standard or piggable bores, compact ball valves, sampling ball valves, or a custom designed solution specific to your needs.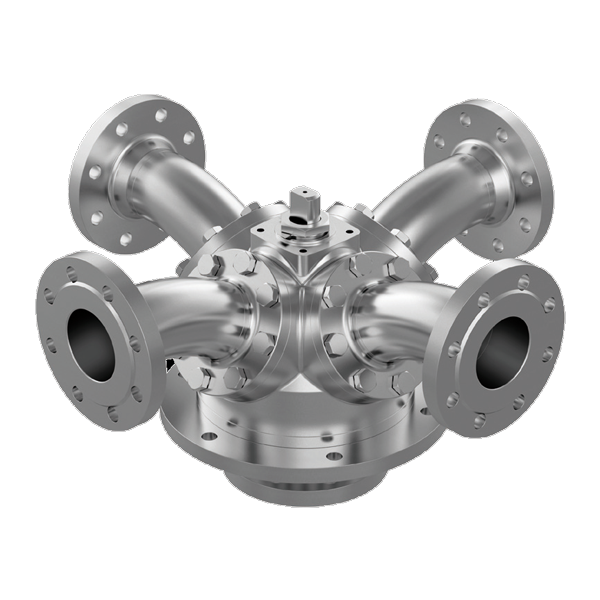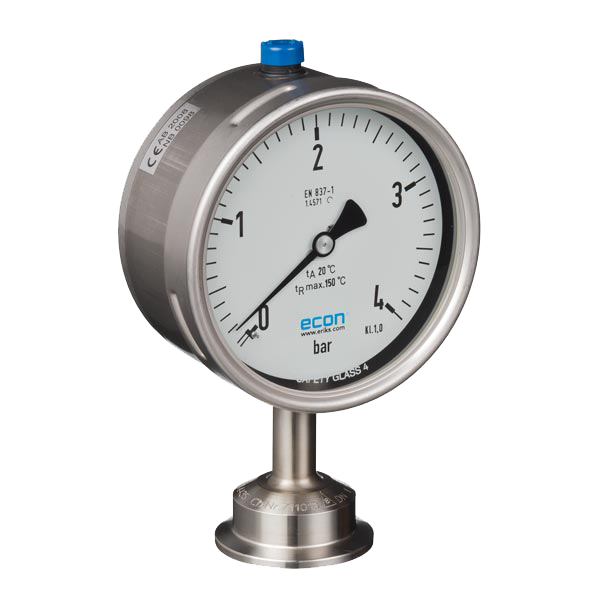 Instrumentation & Control
In addition to well-matched drives and fittings, measurement and control technology is of great importance for both plant automation and process monitoring. Do you want to get started? We offer you the right hardware from our own range or from renowned partners. The product range is extensive and includes:
Magnetic Valves
Control Valves
Pressure Sensors
Flow meters
Chemical Sensors
Temperature Sensors
Steam

ERIKS can help with your steam systems, providing services like steam trap surveys and boiler house surveys, to ensure your steam system is as efficient as possible and your Boiler house is compliant with all current safety regulations, as well as the supply of steam handling equipment like:
Steam traps
Control valves
Strainers
Boiler controls
Heat Exchangers

Used to transfer heat from one medium to another and often critical to temperature control for CIP systems, Cooling, pasteurisation and UHT processes, heat exchangers can also be used on energy saving heat recovery systems taking waste heat and using it to useful heat! ERIKS can supply and service a range of heat exchangers through our partner suppliers including:
Brazed Plate
Gasket and Plate
Shell and Tube
Pumps
At the heart of most of your processes the pump provides the means of moving your product between the various stages of production, from the intake of raw materials from tankers or borehole pumps, the handling of the final product and disposal of waste materials to the effluent plant ERIKS using their partner suppliers can help in all your hygienic and non-hygienic pump needs.
Submersible Borehole
Hygienic Positive displacement and Centrifugal Pumps
Dosing Pumps
Vacuum Pumps
Submersible or Self Priming Effluent Pumps
Potential Partners Verder (Packo) or Fristam
Process Filtration
From standard filter cartridges and capsules commonly used to remove contamination and particulates from products, or new Ozone or UV filtration to sterilise liquid prior or after the process filtration plays a huge part in ensuring the final product is contaminant free. ERIKS can supply a range of filtration solutions including:
Filter housings
Filter cartridges
Filter bags
UV Filtration systems
Ozone Filtration systems
Potential Partner Amazon
Fenner® Hygienic motors and stainless steel gear units
Fenner® offers a unique, consistent product line worldwide, whether it's gearboxes, geared motors or just motors. The products are fully interchangeable with your current set-up and guarantee a service life that is as much as 15 times longer.
The motors are easy to clean thanks to the gap- and ridge-free hygienic surface. The AISI 316 stainless steel surfaces are electro-polished and exceptionally corrosion-resistant. Identification plates are not necessary, as the specifications are etched onto the surface.
Fenner® motors are resistant to high-pressure cleaning due to the high IP66 protection class (IP69/K optional).
Conveyor solutions
ERIKS offers a complete range of conveyor belt components for the food industry. Our range includes conveyor belts, tabletop chains, modular belts and rollers for use in ovens, freezers, or for transporting raw materials or packaged goods. Our hygienic components prevent contamination and are corrosion and moisture resistant. On top of that, all components are resistant to aggressive cleaning agents. 

ERIKS also takes care of the assembly, installation and maintenance of your conveyor system. Need assistance? You can count on us 24/7. 
Bearings for Food environments
Timken Poly-Round® bearings
Timken bearings are corrosion-resistant, self-lubricating and have been specially developed for the food industry. Timken bearings can withstand harsh conditions, including chemical cleaning or cleaning under high pressure. The smooth surfaces and laser markings ensure easy cleaning.


Lubrication-free engineered polymer insert
Interchangeable with standard housings
Stainless steel and polymer housings
Compatible with HACCP/HARPC guidelines
Optically detectable blue materials
SKF Food Line bearings- Blue Range
With its new series of food-safe, fully sealable and lubrication-free ball bearing units, SKF is setting a new standard for the food and beverage industry.
Key benefits
Improved food safety
Higher performance and longer service life
Lower maintenance and repair costs
More sustainable production
NSK Silver-Lube® Mounted Units
NSK's Silver-Lube® series is a range of corrosion-resistant bearing units specifically for use in industries where frequent thorough washdowns are necessary, optimum hygiene standards are required and good chemical resistance is important over a wide temperature range.
Benefits:
Resistant to cleaning agents and chemicals thus resistant to corrosion & peeling paint
Long life / low cost of ownership
Relubrication is possible for long trouble-free life
Approved to NSF, temperature scale from -20°C to +90°C
Food and Vegan friendly lubricants
OKS 371 Food Grade Universal Oil
OKS 371 is a multi-purpose food grade maintenance and lubricating oil. Both tasteless and odourless, it offers extremely high creep capacity, entering small gaps making it ideal for precise lubrication. It also displaces water, and dissolves dirt and rust. Certified by NSF as H1 making it suitable for incidental contact with food and beverage products.
Single-point automatic lubricator
The lubricant dispenser supplies the lubrication points with lubricant reliably and continuously during the operating time over a preset running time of 1-12 months. The simalube lubricators are available filled with food lubricants, which are all NSF H1 certified. Thanks to the permanent lubrication, the lifespan of the production systems is extended.
Vegan friendly lubricants
Rocol has become the first lubricant and maintenance product manufacturer to be certified with The Vegan Society's Vegan Trademark. This certification applies to the majority of the products in the FOODLUBE® and PUROL food-safe lubrication ranges. Contact your local service centre for
more information.
Industrial MRO and Safety products
Occupational safety in the food industry is not only a particular challenge in terms of human safety; an equally important aspect is compliance with hygiene regulations for consumer protection. With our comprehensive range of personal protective equipment (PPE), hygiene clothing and maintenance products for the food industry, we support you in your HACCP concept.
Standardised tool trolleys with food-safe inlays.
ERIKS not only supplies every imaginable piece of professional equipment, but also helps with customised solutions for food processing companies. For a major player in the dairy industry, we designed and manufactured tool trolleys for the various safety zones in force.
Thanks to the new trolleys, each tool now has its own designated spot. Technicians can immediately find the equipment they need or quickly identify what is missing, making inventory control easier and safer. The result: satisfied technicians, reduced loss of time and a cost saving of around EUR 170,000.
For carts used in areas with the highest hygiene standards, ERIKS developed custom, easy-to-clean, plastic inlays that comply with EC1935/2004 legislation. All for food safety!
Shadowboards and RFID Tagging
Track your maintenance tools by introducing shadow boards; these simple visual systems help you to ensure tools within the production process are returned to their correct location, reducing the risk of foreign objects contaminating your process.
Used in conjunction with RFID tagging, you can trace any missing or absent tools quickly and easily to a precise location.
Protective clothing and foot protection
Whatever your clothing or footwear requirements are on-site we have a solution that meets your exacting requirements, from gloves to footwear, hats to beard snoods and coveralls to sleeve protectors our range of PPE for food applications covers every eventuality. Give us a call to discuss this further.
Metal & Plastic Detectable Solutions
To reduce the risk of costly product recalls from contamination, we offer a wide range of plastic and metal detectable solutions to protect your production processes, these include; plastic detectable knives, metal detectable earplugs, hairnets and cable ties.
Clothing for food-safe production
We support your HACCP concept with our extensive range of personal protective equipment (PPE), hygienic clothing and maintenance products for the food industry.
Hand protection
Skin protection
Hearing protection
Foot protection
Body protection
Hygienic clothing
Food safety shoes
For workplaces in the food industry, we supply high-top and low-top shoes, with or without laces, class S2 or S3. The shoes are hygienic and prevent slipping, even on wet and oily surfaces. The food safety shoes are stain-resistant and very easy to clean.
Ansell hand protection
Employees need comfortable, reliable Personal Protective Equipment (PPE) that protects food products from potential contamination.
 
Metal-detectable earplugs
Hearing protection comes in all shapes and sizes. For the food industry, we carry special (disposable) earplugs from Thormas and 3M. These earplugs are easy to trace thanks to the integrated metal parts. The safety cord reduces the risk of loss for added security and comfort.
Solutions for the food industry
ERIKS has an extensive range of components especially for the food and packaging industries.
About the food industry
Our goal is to simplify your business and processes. 
Our blogs on food safety

 
Consult our Food Experts
ERIKS has years of experience in the food and beverage industry.
Top Tips Whitepaper

Download your copy today!
ERIKS will handle this - let us know how we can help...
How to Contact ERIKS
Get in Touch
Looking for a custom Product quote? Need an answer to a Technical question? Looking for Careers/HR support? Want to work with us? Interested in our Digital Trading solutions? Have a finance question? Send us your enquiry and a member of the ERIKS team will be with you quickly.
How are we doing?
We strive to deliver exceptional quality service and products. As part of this goal, we encourage customers to submit feedback on their experiences so we can resolve any issues and concerns.
Chat, call or find your local Branch
At ERIKS we strive to deliver the best quality service and products. As part of this goal we encourage customers to submit feedback on their experiences so we can resolve any issues and concerns.

Call us: +441215086000