Working Safely
As things slowly begin to return to normal many of us will be anxious and concerned about our health and well-being due to the Covid-19 virus. Now is the time to invest and plan in the safety and wellbeing of our workforce as we begin our journey back into the workplace.
We Have Hand Selected a Range of Critical Products
Driven by Government advice, and through our experiences of working closely with our customers in Key Industries during these challenging times, we have hand selected a comprehensive range of critical products that will help to ensure the health and safety of employees upon their return to the workplace.
With a comprehensive range of essential products available, we understand how difficult it can be to choose the right solution for you, your business and employees, therefore, to make it as convenient as possible, we have created a Covid-19 Product Range, which is split into 4 Key Product Areas.
In Stock, Don't Delay, Order Today
Following recent concerns from the Health and Safety Executive regarding the use and supply of KN95 certified face masks, we would like to draw your attention to the following essential Safety Alert and Safety Bulletin from HSE.
But you can rest assured when buying from ERIKS. Thanks to our strong supply network, we only source our products from reliable and reputable channels and manufacturers, using stringent quality control protocols, all complete with authorised certification. We put your safety first!
High Visibility Social Distancing Vest
Be safe, be seen with Portwest's Hi-Vis Social Distancing Vest. A classic two band reflective tape design with the added benefit of a pre-printed social distancing logo.
CE Certified
Reflective tape for increased visibility
Hook & Loop clsoure for easy access
Lightweight and comfortable
Certifed to EN ISO 20471 after 50x washes
Washable social distancing logo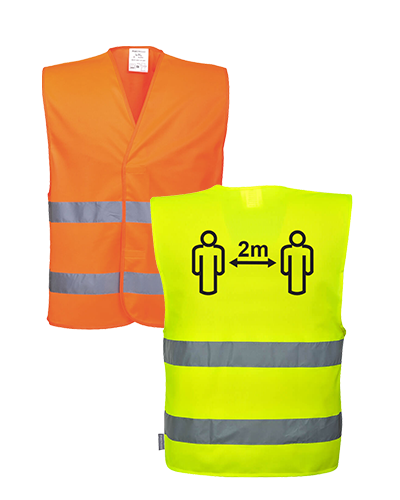 Moving UK manufacturing out of lockdown
After what has seemed like an eternity, we're gradually beginning to emerge from the constraints of a nationally imposed COVID-19 lockdown. This process however is unlikely to be fast.
Here we discuss the key factors surrounding the road to reintegration and how to plan a return to work strategy that optimises production, while ensuring the health and safety of employees.
Planning the return to work
Safeguarding employees
Getting production systems back on-stream
Restarting production and your supply chain
Zero rated VAT on PPE
Know+How Hub
Keep up to date with all the latest news and updates
How to Contact ERIKS
Get in Touch
Looking for a custom Product quote? Need an answer to a Technical question? Looking for Careers/HR support? Want to work with us? Interested in our Digital Trading solutions? Have a finance question? Send us your enquiry and a member of the ERIKS team will be with you quickly.
How are we doing?
We strive to deliver exceptional quality service and products. As part of this goal, we encourage customers to submit feedback on their experiences so we can resolve any issues and concerns.
Chat, call or find your local Branch
At ERIKS we strive to deliver the best quality service and products. As part of this goal we encourage customers to submit feedback on their experiences so we can resolve any issues and concerns.

Call us: +441215086000