Talking the Torque 30 years later
Can you remember the reasoning behind decisions you made 30 years ago? A leading supplier of building cement couldn't. Which is why they needed to talk to someone about torque.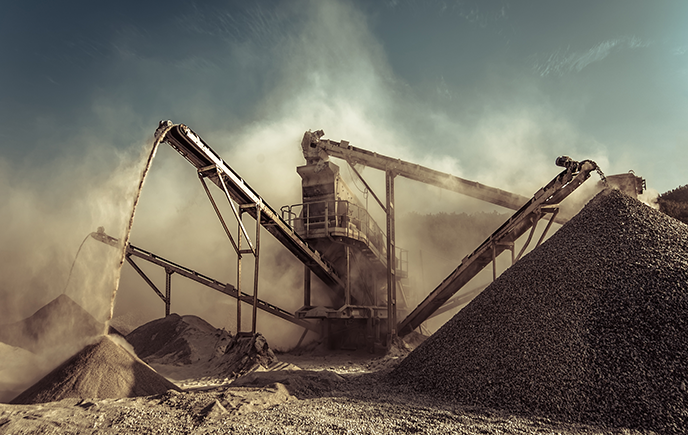 As a key part of their process, the cement manufacturer uses a large mechanical rake to traverse an area of conveyor and pull small rocks off the belt into a hopper. For 30 years, the raking application relied on an industrial gear unit (IGU) with a shrink disc output hub, and a 22Kw close-coupled motor. The gear unit was then connected to a custom shaft, which was in turn linked to the rake.


So far, so sensible.
However, the unit also incorporated a bespoke torque limiter. No-one was quite sure why. No-one involved in the commissioning three decades earlier was still available to ask. And it was causing more problems than it might ever have been meant to solve. 
Acting as an overload device between the motor and gearbox, the torque limiter disengaged the two whenever there was a torque overload. But to re-engage, the set-up needed a time-consuming partial strip-down every time. Not only that, but after 30 years in operation in an aggressive operating environment, where cement dust is ever-present, the sealing arrangements were degraded and ineffective.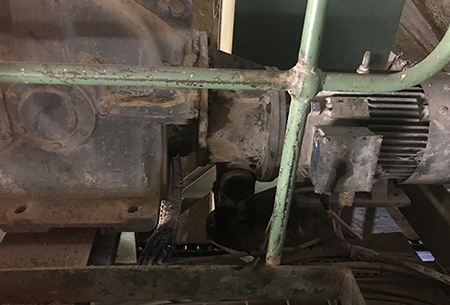 After 12 months of repeated breakdowns, extensive downtime for repairs, and costly lost production, the customer decided it was time to take action. 


Turning to the experts
ERIKS already had an on-site presence supplying, fitting and maintaining bearings, filters and hydraulics. So they were the customer's natural first choice to talk to. And those on-site engineers could call on the expertise and experience of ERIKS' Rotating Equipment Product Business Unit.
Firstly, ERIKS turned detectives. They quickly established that the unit was obsolete, meaning spare parts were no longer available. And no-one had a clue to the origin of the torque limiter. 
In the past, the customer had undertaken several rebuilds and workarounds to try to overcome the spares problem, but these had only helped in the short-term. In fact in some cases they caused even more problems. The use of different materials from those of the original parts led to changes in the torque parameters to unknown values.
A unit rebuild and a torque limiter refurbishment were clearly economically unviable, impractical and undesirable. It was time for less talk and more action.


Simply better
The ERIKS project team designed a new solution that was not only simpler but also more efficient, and easily fitted into the existing application.
A Fenner 'P' series IGU was close-coupled with an overload clutch from MAYR – an ERIKS partner supplier. The close-coupling eliminates any potential alignment issues, while the overload clutch is a more effective and practical replacement for the torque limiter.
In the event of torque overload, the clutch automatically disengages until the problem is resolved.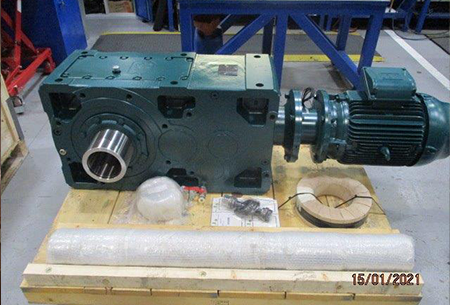 Then all that's needed to start the rake operating again is one revolution of the drive tore-engage the clutch.

No stripping down. Far less downtime. Minimal lost production.
As the application had been operating for thirty years, the motor was almost certainly not the one originally installed. It was also budget choice, from the days before efficiency ratings. ERIKS swapped it for a WEG high-efficiency IE3 electric motor, offering a 5-6% energy-efficiency improvement, and predicted reliability and service life benefits.

The new shrink disc output hub is fitted with a bespoke shaft to suit the existing sprocket and bearing arrangement. This helped to minimise the amount of new engineering and new components required.
Installation was timetabled for a period of scheduled downtime, and was completed in around 1½ weeks. This included changing an anchor point no longer in the right place for the new set-up.
Using a standard motor and clutch from well-known manufacturers ensures ready availability of spares. And improvements in sealing over the last 30 years mean that – even in such an aggressive environment – a standard sealing arrangement can be used.
Lastly, the IGU, motor, output hub, clutch and shaft had been repaired and replaced piecemeal over many years. Wholesale replacement allowed ERIKS' engineers to 'restore' the unit to materials with known torque values, making it possible to more accurately predict failures and set operational parameters.
The success of the solution has not only ensured reliability and enhanced efficiency and productivity for the customer. It's also firmly cemented their relationship with ERIKS.

For more information you can contact your local ERIKS Service Centre, who will be happy to discuss your options.


#ERIKS #LetsMakeIndustryWorkBetter #Fenner #Engineering #Solutions #Efficiency
ERIKS in the Quarrying Industry
ERIKS simplify business and processes in challenging environments