Safety Pays - ERIKS Norwich
January 2018
Following the launch of ERIKS UK & Ireland's Safety Pays Initiative, both colleagues and charities local to the ERIKS Norwich Regional Hub are reaping the rewards of safe best practice in the workplace.
The initiative, which stretches throughout ERIKS' branch and engineering network, encourages employees to adopt a collaborative effort to stay safe in the workplace. 
For every month free of accidents or incidents, £75 goes into the centres' 'Safety Pay's pot', with a further £25 added if 10 Safety Report Cards are received over each month. If a centre manages to stay accident or incident-free for a Quarter, this money is then donated to a local charity.
Since the launch of the initiative in July 2017, ERIKS Regional Hub has raised £250.00 for its chosen local charity, East Anglian Air Ambulance.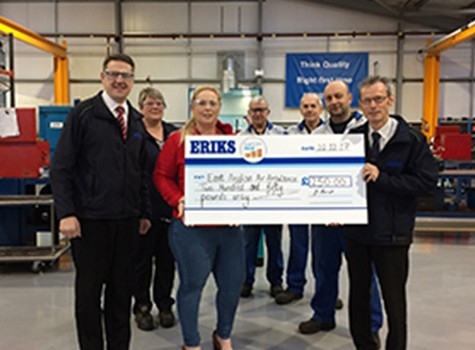 Adding further to each service centre's commitment to safer working practices, each Engineering Manager conducts a weekly Safety Briefing to provide an update on the Safety Pays Initiative, as well as offering the opportunity for colleagues to put forward their concerns and ideas for improving safety across the business.

Steve Waugh, CEO of ERIKS UK & Ireland, comments: "Safety is paramount at all of our regional service centres, and implementing the Safety Pays initiative has already resulted in a noticeable positive change to the attitudes of our employees. The programme has encouraged better team work, whilst also improving safety and benefiting local charities. I want to offer a huge congratulations and my gratitude to every service centre that has maintained and improved safety best practice so far."
For press enquiries please request the Marketing Department on 0121 508 6000.
How to Contact ERIKS
Get in Touch
For all general enquiries use the Enquire Online form - we'll connect you with the best member of our team for your query.  Alternatively, look up your local service centre...
Got a Technical Question?
We are proud to boast a strong team of technical specialists in each of our product and service areas. If you have a technical question a member of our team would be happy to help. 
Share Your Thoughts
At ERIKS we strive to deliver the best quality service and products. As part of this goal we encourage customers to submit feedback on their experiences so we can resolve any issues and concerns.