ERIKS Renames its Flow Control Division
June 2017
Leading industrial services provider ERIKS has united the Econosto product portfolio under a new business arm – the ERIKS UK & Ireland, Flow Control Product Business Unit.
Econosto UK joined the ERIKS group in 2008 and has continued to develop as a leading flow control provider since. The move to use the ERIKS name came into effect on the 1st April 2017 and going forward, ERIKS will continue to invest in the business unit's capability. The new Flow Control business unit will continue to provide in-depth application knowledge, efficiency, simple ordering processes and reduced costs in the supply chain to its customers, as well as including valued valve products from its flagship valve brand, ECON. Its operational bases will remain in Leicester, Aberdeen, Glasgow, and Teesside.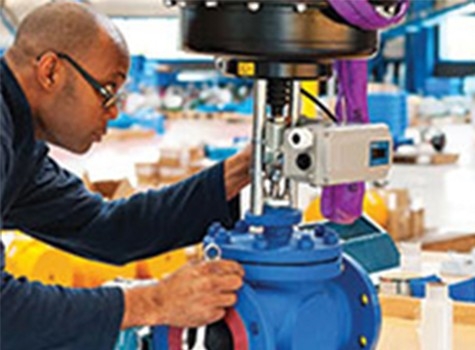 What's more, the Flow Control business unit is set to develop its product range and technical support services in line with the ERIKS whole product life philosophy. To ensure that customers have the right flow control solution for their application, the business will help with product selection, customisation and automation support. Flow Control will also assist with monitoring, maintenance, and upgrades to extend your system's operational life.
In response to customers wanting to ensure their plant is safe and reliable, Flow Control has invested in valve testing and certification as an integral part of its plant maintenance schedule. These specific tests are carried out by ERIKS' in-house, qualified test engineers and can be carried out in under 24 hours when time is critical.
Marc Hough, Product Manager for the Flow Control Division, comments: "While we are proud of the Econosto name and its history dating back to 1892, we have been an ERIKS company in everything but name for the last few years and feel now is the perfect time to fully embrace the ERIKS name. We are excited about future developments for the brand and to help customers to achieve a more efficient and safer plant."
For press enquiries please request the Marketing Department on 0121 508 6000.
How to Contact ERIKS
Get in Touch
For all general enquiries use the Enquire Online form - we'll connect you with the best member of our team for your query.  Alternatively, look up your local service centre...
Got a Technical Question?
We are proud to boast a strong team of technical specialists in each of our product and service areas. If you have a technical question a member of our team would be happy to help. 
Share Your Thoughts
At ERIKS we strive to deliver the best quality service and products. As part of this goal we encourage customers to submit feedback on their experiences so we can resolve any issues and concerns.