ERIKS Nottingham and ERIKS Derby Form New East Midlands Service Centre
January 2018
We are proud to announce from Monday 22nd January ERIKS Nottingham and ERIKS Derby are relocating to form our new ERIKS East Midlands Service Centre.
The increase in space will enable us to provide additional engineering services, invest in and hold more stock, and offer a larger dedicated team to better meet the needs of our local customers. This move most importantly enables us to offer our customers a faster and more efficient service.
We will continue to operate as normal, and you, as a valued customer of ERIKS, will continue to receive our high standard of service even during the move. Once complete this new location will be able to support you on a broader range of products and services providing even more engineering benefits.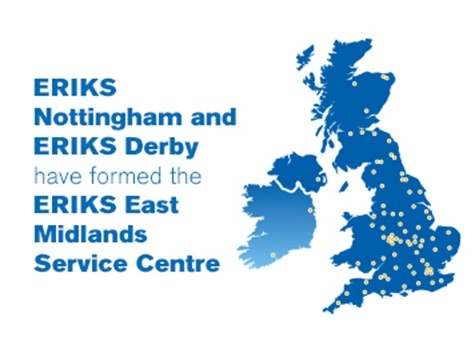 When you get a chance please give our team a call or visit our new site and we will be pleased to proudly talk you through the improved service benefits and broader product range now available.

ERIKS UK & Ireland East Midlands Service Centre, Unit 6, Northedge Business Park, Alfreton Road, Derby,  Derbyshire, DE21 4BN
Tel: 01332 386770, Fax: 01332 386799, Email: derby@eriks.co.uk 
For press enquiries please request the Marketing Department on 0121 508 6000.
How to Contact ERIKS
Get in Touch
For all general enquiries use the Enquire Online form - we'll connect you with the best member of our team for your query.  Alternatively, look up your local service centre...
Got a Technical Question?
We are proud to boast a strong team of technical specialists in each of our product and service areas. If you have a technical question a member of our team would be happy to help. 
Share Your Thoughts
At ERIKS we strive to deliver the best quality service and products. As part of this goal we encourage customers to submit feedback on their experiences so we can resolve any issues and concerns.