ERIKS Employee Wins Student of the Year Award
February 2017
Congratulations to Daniel Banks, Asset Repair Manager - OnSite Solutions ERIKS Dagenham, on his recent win of Student of the Year Award from Havering College of Further & Higher Education.
Daniel was shortlisted for the award thanks to his:
Successful Cost Saving projects tied into his Apprentice Coursework
Positive performance feedback to the college from Customer and ERIKS
Progression within ERIKS during the 3 years of his apprenticeship (from Inside Sales to Asset Repair Manager)
Along with the recognition of the award, Daniel has also been invited back by the college to speak at future industry days and their workshops during National Apprenticeship Week.
Well done, Daniel on your fantastic achievement!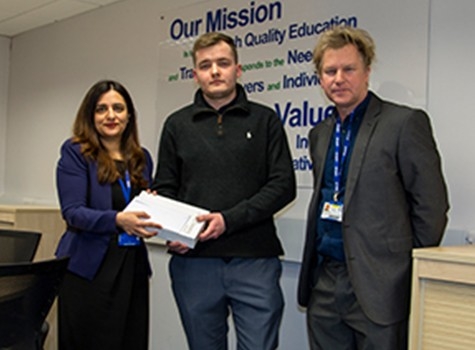 For press enquiries please request the Marketing Department on 0121 508 6000.
How to Contact ERIKS
Get in Touch
For all general enquiries use the Enquire Online form - we'll connect you with the best member of our team for your query.  Alternatively, look up your local service centre...
Got a Technical Question?
We are proud to boast a strong team of technical specialists in each of our product and service areas. If you have a technical question a member of our team would be happy to help. 
Share Your Thoughts
At ERIKS we strive to deliver the best quality service and products. As part of this goal we encourage customers to submit feedback on their experiences so we can resolve any issues and concerns.