Rival Foods & ERIKS develop a technologically unique skid

A meat-like texture without any additional ingredients
Both the product, and the technology behind it, are unique in the industry. What is special about the technology is the considerable step forward in terms of the quality of the final product, which did not seem possible before. Many of the techniques in use simply involve mixing processes and/or extrusion. Commonly, soy or pea protein is pressed through a mould under pressure to create a structure that resembles meat.
This method takes a lot of energy and is mainly only suitable for use in the manufacturing of end-products such as burgers and loose pieces of 'meat'. Rival Foods' technology makes it possible to create a whole-muscle texture – a texture not substantially different from that of a pork tenderloin, a chicken breast fillet or a piece of salmon.
To produce these meat, fish and poultry substitutes, it is possible to prepare that texture in different ways. And that's what the food service industry is craving, as it allows a chef to offer the same experience as a real piece of meat, but in the form of a product that is plant-based.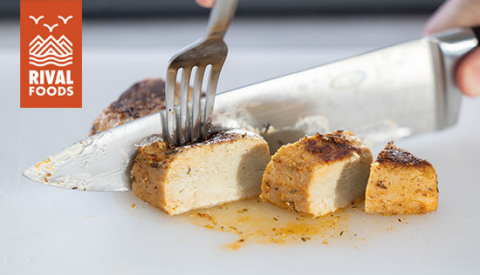 This meaty texture is possible thanks to Rival Foods' latest technology.
Help with scaling up
We're not planning to give away any chef's secrets, of course, but it involves precisely regulating processing conditions and using a variety of proteins. Rival Foods originally conducted a laboratory-level test, and then started testing on a small scale. With a simplified system, it became possible to produce 5 kilos in an hour. "And then we decided to make the move to build a bigger system" says Breel.
"Our first system, which was also developed in collaboration with ERIKS, was built using minimal resources and we wanted to move to a system that would made it possible to produce 20 kilos per hour. So, we therefore needed to make a significant step forward in terms of automation. However, we are a small team and we didn't have the knowledge to build a complete skid ourselves. We therefore looked for parties who could help us with energy and skid construction and it wasn't long before we found our ideal partner with ERIKS."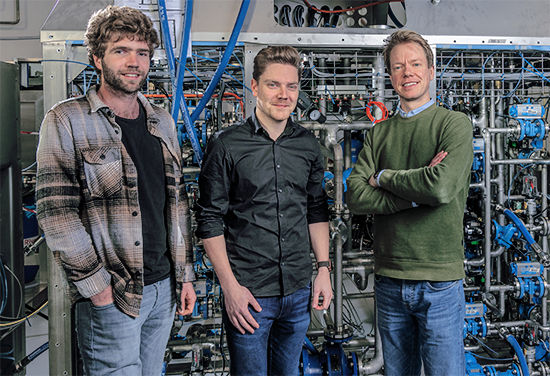 From left to right. Dave van der Stoel - Mechanical Engineer Rival Foods, Martijn van Wijk - Application Engineer ERIKS, Ernst Breel - Founder Rival Foods
Searching for the right collaboration
The result was a unique collaboration that occasionally involved searching for the perfect working method. Dave van der Stoel, Mechanical Engineer at Rival Foods describes the process as follows: "We had come up with the idea for the machine ourselves. But the processing parameters were unknown, which made it difficult to pass on specifications, actually we knew that we wanted to build our own machine, but we didn't yet know precisely what form it needed to take."
And that, according to Martijn van Wijk, Application Engineer at ERIKS, was quite a tricky puzzle, but one that he and his team enjoyed piecing together: "It was challenging, in a good way. The skid features virtually the full range of fittings supplied from ERIKS Flow Control. These include components such as water separators for steam conditioning, manually operated opening and closing bellows valves, steam traps for condensation drainage and a centrifugal pump for pumping cooling water. And those are just a few of the parts included in the complete skid."   
A joint learning project
For Martijn van Wijk, developing and building the skid was a fantastic project: "We actually held Rival Foods by the hand and guided it through the process of developing a skid from start to finish. For its part, Rival Foods also placed its full trust in us to start working on this. At times, that still involved a certain amount of searching in order to find the right way to collaborate.
We soon realised that we had to have periodic consultations, because during the development process, plans sometimes change. In the end, we really grew together towards an end point. It's great to be able to collaborate as ERIKS on an idea that you know will work, but has never been implemented on this scale before."   
Developing on a tight budget
A challenge for Rival Foods is keeping product costs low, as the final product must not be any more expensive than 'real' meat. The cost of the skid also affects the pricing. ERIKS therefore took this into account while developing the skid. This involved a painstaking trade-off between components, quality, service life and type of use. Experts from ERIKS knew how to select the right components to develop the system cost-effectively.
The final result is magnificent. The skid allows Rival Foods to control the required energy flows. That is how the company keeps a close handle on the production process. Thanks to the skid's design, all of the components sit compactly together.
Van Wijk: "It is plug & play and very compactly designed. Space-wise, this was a very important factor for Rival Foods. Building compactly, by the way, is a trade-off in terms of use. For example, condensation drainage is very important, as too much condensation or poor condensation drainage has a negative effect on the process and makes it energy-inefficient. We also had to take swirling into account to ensure that the process worked correctly. Too much swirling is bad for the process."
Approachable and accessible
ERIKS' accessibility and approachability were a big plus for Rival Foods during the development of the system. Van der Stoel: "In the beginning, we were still fairly small and didn't have an extensive knowledge of how the system worked from start to finish. What appealed to me was the fact that, as a small party, we could just ask questions whenever we wanted.
Because if you need a system that's ten times bigger, it's not just a case of multiplying the old system by ten. Increasing the scale actually brings up so many new questions and we had no experience with that. ERIKS did. I knew that if I picked up the phone, I would get a solution to my problem. And that is still the case."
In June 2023, the time had come and the first Rival Foods products appeared on the market. ERIKS is proud to have contributed to such a sustainable product.
A vegetarian chicken breast fillet or spare rib that offers the texture, juiciness and overall experience of meat. It sounds unreal, and yet many a restaurant will soon be serving it. Rival Foods has developed a lab-scale process to structure proteins in order to make meat, fish and poultry substitutes – substitutes that come tantalisingly close to an animal product in terms of experience.
To make a real impact, it is important for Rival Foods to increase production capacity, in order to serve a larger sales market. Scaling up production capacity entails various challenges, so ERIKS pulled up a chair at the drawing board to help address one of those challenges.
Rival Foods was set up in 2019 as a technology spin-off of Wageningen University & Research. Founded by Ernst Breel and Birgit Dekkers, the company developed a process that enables proteins to be structured to make meat substitutes.
According to Breel, this can be likened to a kind of pressure cooker with a rotating part: "We can use this to place proteins in a certain direction. By carefully regulating the processing conditions after that, we can create a specific texture. This technology means that we need virtually no by-products. We now use only vegetable protein, water, a little salt and natural flavourings to create what is a clean label product."

For more information about the vital ingredients of certified products, expert advice and support, please contact your local ERIKS Service Centre, who will be happy to discuss your options.
#ERIKS #LetsMakeIndustryWorkBetter #Food #Traceability #Legislation #FoodSolutions #FoodSafety