New European Centre of Expertise Opens on Pensnett Industrial Estate
October 2018
ERIKS UK & Ireland has officially opened the doors to its European Centre of Expertise for Power Transmission in Kingswinford, Dudley.
Located at Prime Point on the Pensnett Industrial Estate, the 30,000 sq ft premises will be home to over 120 employees and will be dedicated to continued innovation and customer service. The move and the commitment to a 15-year lease of the new facility, furthers the company's ambitions to be leaders in its field, with the Black Country proving to be the ideal location for its product management and technical operations.
"The Prime Point facility is one of a number of ERIKS Technology Centres dedicated to innovation and customer service," says Mike Ferris, Chief Operating Officer for products and solutions at ERIKS UK. "The move will support our growth ambitions as the leading supplier of industrial products and services in the UK and Ireland.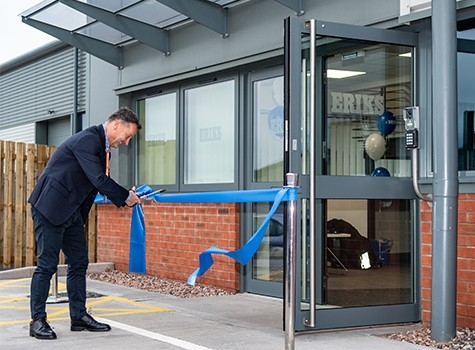 "ERIKS group have taken the strategic decision to develop Centres of Expertise in key locations to provide customers with best-in-class engineering support. Relocating 120 or more staff will also give us the opportunity to consolidate a number of functions from different offices to improve the coordination and flexibility of our technical and engineering support functions."
As the leading industrial service partner in the UK and Ireland, ERIKS offers a wide range of parts, technical advice, operational knowledge, and predictive maintenance services to improve asset total cost of ownership for customers in industrial sectors.
Simon M Franken, CEO of ERIKS Group, comments: "Creating a European Centre of Expertise is a strategic investment for ERIKS group that will help support and develop the power transmission product and service capability across all of Europe. The UK, and Dudley specifically, seemed like a fitting location for the Centre of Expertise given the industrial roots of the Black Country region and the success of our head office in Halesowen."
For press enquiries please request the Marketing Department on 0121 508 6000.
How to Contact ERIKS
Get in Touch
For all general enquiries use the Enquire Online form - we'll connect you with the best member of our team for your query.  Alternatively, look up your local service centre...
Got a Technical Question?
We are proud to boast a strong team of technical specialists in each of our product and service areas. If you have a technical question a member of our team would be happy to help. 
Share Your Thoughts
At ERIKS we strive to deliver the best quality service and products. As part of this goal we encourage customers to submit feedback on their experiences so we can resolve any issues and concerns.