ERIKS Hosts Conference on Future of UK Manufacturing
October 2017
Industrial services provider ERIKS has underlined its commitment to becoming a leading voice on Industry 4.0 after hosting its first conference on the future of UK manufacturing at the MTC, Coventry.
The Innovation Excellence Conference, which brought together a range of manufacturing experts and representatives across industry, sought to address how the UK can adapt to developments and changes within manufacturing, including Industry 4.0, data sharing and advanced maintenance practices to improve operational efficiency.
Overall, the aim of the event was to encourage manufacturers to embrace the "digitalisation" of industry, and develop a more collaborative mindset in order to increase the UK's productivity and global competitivity.
Speakers included representatives from a number of ERIKS suppliers, including Festo, Xylem and Rexnord. The event also welcomed two keynote speakers: the MTC's head of technology strategy for digital manufacturing, Dr Lina Huertas, and international businessman, Lord Digby Jones.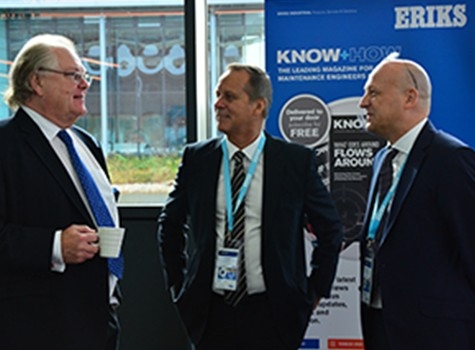 Dr Heurtas considered how businesses could harness the value of Industry 4.0 and Big Data, while Lord Jones discussed how collaborative working, embracing technology and leadership could all kick-start positive change in industry.

In addition to the detailed seminar programme, the event also included an exhibitor area, which gave ERIKS' suppliers the opportunity to demonstrate their latest solutions for simplifying maintenance and reducing downtime.
Steve Waugh, CEO of ERIKS UK & Ireland, comments: "The Innovation Excellence conference was a great opportunity for us to talk to our customers and discuss the issues they are facing as they prepare their infrastructure for the so-called "Fourth Industrial Revolution".
"As well as gaining a better idea of their needs and ambitions, we were also able to demonstrate how ERIKS could offer its support to reduce asset downtime and increase the value from parts supplied by ERIKS through the product life cycle.
"As an innovative company, ERIKS has accepted responsibility to lead and collaborate across industry to bring new ideas and technology for its customers. We would like to thank all of our guests and speakers, particularly Dr Huertas and Lord Jones, for making this conference such a success."
For press enquiries please request the Marketing Department on 0121 508 6000.
How to Contact ERIKS
Get in Touch
For all general enquiries use the Enquire Online form - we'll connect you with the best member of our team for your query.  Alternatively, look up your local service centre...
Got a Technical Question?
We are proud to boast a strong team of technical specialists in each of our product and service areas. If you have a technical question a member of our team would be happy to help. 
Share Your Thoughts
At ERIKS we strive to deliver the best quality service and products. As part of this goal we encourage customers to submit feedback on their experiences so we can resolve any issues and concerns.