100 Mile Charity Bike Ride
June 2018
ERIKS is again proud to support the annual charity bike ride from the British Gypsum Barrow site in Leicestershire to Skegness on the Lincolnshire coast. A 100 mile trip!!
Now in it's 11th year, the ride has raised a considerable amount of money for goods causes which this year is the Nottingham Trauma Ward.
This year, in addition to sponsoring the event with our logo on the official ride shirts, our very own David Manning-Ohren (pictured) from the Condition Monitoring team is taking part, representing ERIKS.
For press enquiries please request the Marketing Department on 0121 508 6000.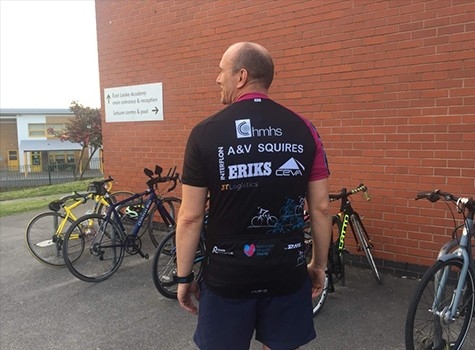 How to Contact ERIKS
Get in Touch
For all general enquiries use the Enquire Online form - we'll connect you with the best member of our team for your query.  Alternatively, look up your local service centre...
Got a Technical Question?
We are proud to boast a strong team of technical specialists in each of our product and service areas. If you have a technical question a member of our team would be happy to help. 
Share Your Thoughts
At ERIKS we strive to deliver the best quality service and products. As part of this goal we encourage customers to submit feedback on their experiences so we can resolve any issues and concerns.